Capacity Building : Seed testing training for various National Plant protection officers in Eastern and Southern African countries:
by L.M. Suresh  and Mwatuni Francis/ 

February 5, 2018 ;

Testing for MLN viruses in seed is of paramount importance in minimizing the spread of the disease and reducing its incidence in MLN endemic regions. Accurate, affordable diagnosis of MLN viruses in seed maize contributes to the following:
Limiting introduction and spread of MLN in otherwise MLN non-endemic regions/countries.
Provides a measure for producing MLN free seed by country Seed certification agencies.
Testing is also important in surveillance programs for ascertaining the MLN status in commercial seed available on markets.
The survey on the institutional capacity to test for MLN viruses in seed revealed that many MLN endemic countries have challenges in testing for MLN viruses in seed. It is in this perspective that CIMMYT through the MLN Diagnostics and Management Project funded by USAID, organized two Training workshops, one in Nairobi – ICRAF Campus on 22nd – 23rd Aug 2017 for the Eastern Africa countries (Kenya, Uganda, Tanzania, Rwanda and Ethiopia) and the second training in CIMMYT Harare office in Zimbabwe for the southern Africa countries (Zambia, Malawi and Zimbabwe) on 25th – 26th January 2018.
The training content includes the various option in MLN viruses diagnostics in seed, sample preparation and the entire process of ELISA for MCMV and SCMV.
The two training were successful with a total of 22 seed analysts trained from the 8 project countries.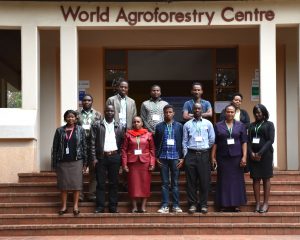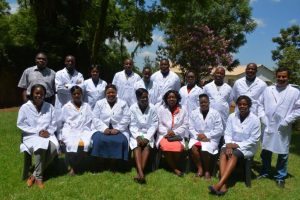 Group Picture :1. Training in Nairobi     2.Training in Harare
Trackback from your site.