CIMMYT Scientist, Dr. L.M. Suresh presenting progress on Maize Lethal Necrosis (MLN) at 7th International Conference on "Phytopathology in Achieving UN Sustainable Development Goals". #IYPH2020
Dr. Suresh,L.M. (CIMMYT) : Indian Phytopathological Society (IPS) organized 7th International Conference on "Phytopathology in Achieving UN Sustainable Development Goals" at ICAR-Indian Agricultural Research Institute (IARI), New Delhi, India, during January 16-20, 2020. The IPS along with 12 most prominent plant protection societies/institutions within and outside the country have come together to celebrate 2020 as the International Year of Plant Health. There were 43 eminent scientists around the world and many research scientists and policy makers from India representing various Institutions, Agricultural universities and international organizations gathered to discourse the issues related to plant pathogens, the disease they cause, the threat they pose to global agriculture and method & strategies to combat them.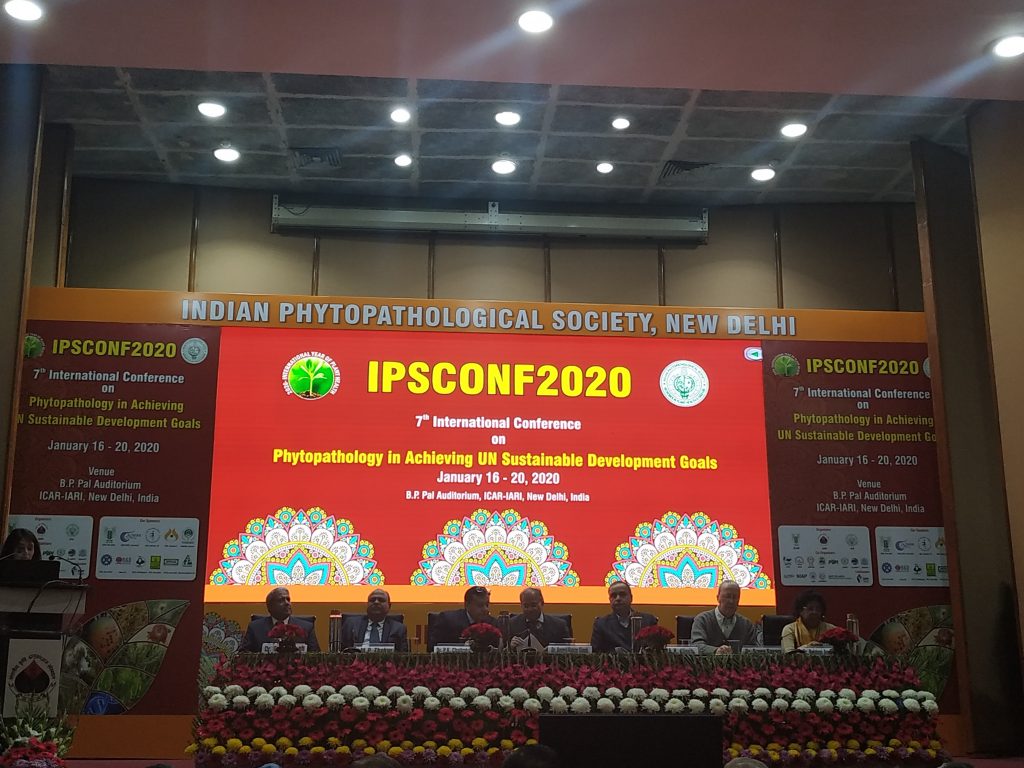 The conference covered several key topics mentioned below.
TECHNICAL SESSIONS
Taxonomy of plant pathogens
Plant disease diagnostics
Population genetics and pathogen diversity
Host pathogen interaction and plant immunity
Climate change influencing plant diseases
Epidemiology and forecasting of plant diseases
Plant health management vis-à-vis human health
Post-harvest diseases and mycotoxins
Disease management in organic and protected cultivation
Breeding strategies for plant disease resistance
Bio-prospecting in disease management
Progress in chemical control of plant diseases
Workshop on wilt disease of solanaceous crops
Genomics and bioinformatics
Transgenics and related approaches for disease management
Human resource development in plant pathology
International trade and biosecurity
Extension plant pathology: challenges in implementation
Plant pathologists entrepreneurship and policy perspectives for food security
Farmers-Scientists-Industries interface
Workshop on Rust diseases of cereals
Dr. Suresh, L.M. presented a Key note lecture on "Tackling Maize Lethal Necrosis (MLN), a complex disease in Eastern Africa" during the technical session "Plant health management vis-à-vis human health". He emphasized that the Maize Lethal Necrosis or MLN as we call it is a complex challenge. It has affected the food security and livelihoods of several million smallholder farmers in Eastern Africa. The challenge could be tackled only through multipronged with an international, multi-discipline and multi-institutional strategy that involves a number of organizations including CIMMYT, the national partners, the commercial private sector, the national plant health organizations, and other regional bodies. The collaboration on a wide range of topics including breeding, diagnostics, management practices, MLN free seed commercial production, and exchange. Throughout these intensive efforts, we have been able to curb the intensity and impact of MLN, in the MLN endemic eastern African countries, and prevent the disease from flowing into the major maize growing countries in southern Africa as well as west Africa.
All these efforts have led to saving millions of dollars for the maize growing smallholder farmers in the African continent.
There was a good interaction among many participants to understand disease diagnosis, management, quarantine measures. The maize crop is one of the important crops grown in India, tackling such complex viral disease is quite challenge, hence the participants were enthused to learn the progress made so far in Sub- Saharan Africa.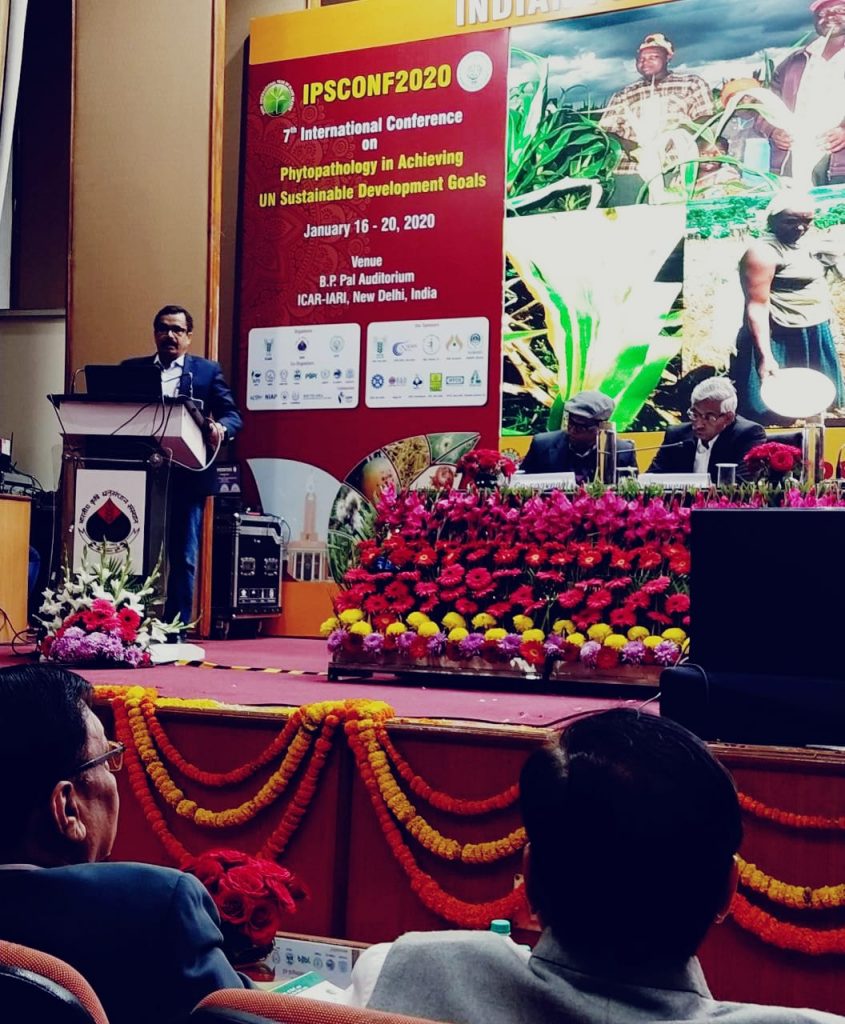 The key topics covered during the presentation
MLN disease
Global Occurrence and distribution of MLN/MCMV
Disease resistance breeding program
Safe seed movement with effective quarantine measures
MLN diagnosis and surveillance
MLN pathogen-free commercial seed production and exchange
Capacity Building to Partners on disease diagnosis and surveillance
MLN Information Portal
Community of practice
Abstract
Maize (Zea mays L.) is the most important cereal crop in sub-Saharan Africa (SSA), covering over 35 million ha, largely in smallholder farming systems that produce over 70 million metric tons (MMT) of grain. Maize Lethal Necrosis (MLN) disease first appeared in Kenya in 2011, and became a major threat to maize production in eastern Africa in subsequent years. In eastern Africa, MLN is caused mainly by synergistic interaction between two viruses, Maize Chlorotic Mottle Virus (MCMV) and Sugarcane Mosaic Virus (SCMV). MLN can cause up to 100% yield loss in susceptible maize varieties. The disease poses a complex challenge as the MLN-causing viruses are transmitted by insect vectors, and through contamination of the seed, especially by MCMV. CIMMYT implemented a multipronged strategy in partnership with several international and national partners to tackle the MLN challenge. These efforts included: a) b) establishing a state-of-the-art MLN Screening Facility in partnership with Kenya Agriculture and Livestock Research Organization (KALRO) in Naivasha for identifying sources of resistance to MLN, MCMV and SCMV under artificial inoculation; b) accelerated breeding and deployment of MLN-tolerant/resistant maize varieties with other relevant traits preferred by African smallholders; c) optimizing MLN diagnostic protocols; c) strengthening capacities of national plant protection organizations (NPPOs) across sub-Saharan Africa on MLN diagnostics, monitoring and surveillance system; d) creating awareness among the maize seed sector institutions on SOPs for producing and exchanging MLN-free commercial seed; e) disseminating information on farming practices for minimizing MLN incidence; e) establishing an MLN Phystosanitary Community of Practice involving various stakeholders, including national plant protection organizations (NPPOs), seed companies, regional/sub-regional organizations, etc.; and f) probing the epidemiology of the disease, especially the factors underlying seed contamination by MCMV. These comprehensive efforts have led not only in preventing the further spread of MLN into other major maize-growing countries in sub-Saharan Africa, especially southern and West Africa, but also minimized the incidence of the disease in the MLN-endemic countries in eastern Africa.
Trackback from your site.