BMGF / CIMMYT: Understanding and preventing seed transmission of Maize Lethal Necrosis (MLN) in Africa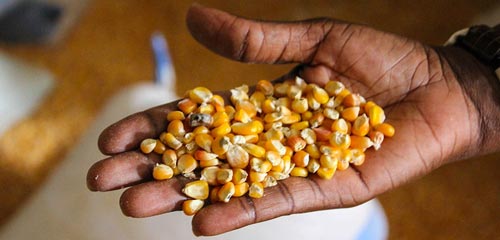 The MLN disease in eastern Africa is caused by co-infection of maize plants by Maize chlorotic mottle virus (MCMV) and any of the cereal viruses in the family Potyviridae. Sugarcane mosaic virus (SCMV) has been identified as the major potyvirus in the eastern Africa region.
The emergence and rapid spread of the MLN disease in eastern Africa during 2012-2014 raised concerns about possible further expansion of the disease into other unaffected regions in sub-Saharan Africa, especially southern Africa and West Africa. The two major means for virus movement across long distances are through insect-vectors, such as thrips, aphids and leaf beetles, and through commercial seed contaminated by MLN viruses. Commercial seed contaminated with MCMV is assumed to be a major factor behind the rapid spread of MLN across eastern Africa.  However, reliable information on various aspects of MLN epidemiology, including the rate of MCMV transmission through seed, is lacking.
A three year project titled "Understanding and preventing seed transmission of Maize lethal necrosis (MLN) in Africa", led by CIMMYT, was initiated in June 2016 with funding support from the Bill & Melinda Gates Foundation. The project is being implemented in active partnership with the United States Department of Agriculture Research Service (USDA-ARS)/Ohio State University, University of Minnesota, Kenya Agriculture and Livestock Research Organization (KALRO), and the International Institute of Tropical Agriculture (IITA).
The main aim of the project is to provide the necessary technical foundation, including identification of effective and robust measures to control the spread and impact of MLN through seed, by generating better understanding of the epidemiology of MLN-causing viruses, especially MCMV.
To achieve this goal, the following six primary outcomes are envisioned:
1) Reliable and cost-effective diagnostic protocols for curbing the spread of MCMV/MLN through seed to be implemented by National Plant Protection Organizations (NPPOs) and commercial seed companies.
2) Mode of MCMV transmission through commercial seed within endemic areas is understood, allowing more effective control.
3) Comprehensive knowledge acquired for development of effective phytosanitary regulations with regard to MLN.
4) Reducing MLN disease pressure in eastern Africa through a comprehensive 'Clean Seed, Clean Soil' program.
5) Preventing the spread of MCMV/MLN from endemic to non-endemic countries, including West Africa and Southern Africa.
6) Effective dissemination of the science-based knowledge generated through this project to NPPOs and Ministries of Agriculture in SSA.
Results from this project will be valuable to the regulators, maize breeders and the commercial seed industry in evaluating the risk of MCMV transmission through commercial seed lots. Information on MCMV seed infestation and transmission, and seed treatments for reducing seed transmission will inform critical decisions by the NPPOs including those concerning seed import and export regulations.
Principal Coordinator: Dr. B.M. Prasanna, CIMMYT