Workshop on MLN Surveillance and Diagnostics using modern Tools – Rwanda MLN Surveillance Team
By Dr. Suresh,L.M. / Francis Mwatuni :
Rwanda is one of the MLN endemic countries in eastern Africa and is also one of the countries covered in the CIMMYT-USAID MLN Diagnostics and Management project. One of the key component activities under the project is to effectively carry out surveillance for the disease using the open data kit tool to map out the prevalence and incidences of the disease in all the participating countries. The National Plant Protection Organizations have this responsibility in all the project countries. However, the Rwanda Agricultural Board(RAB) under the guidance of the Rwanda MLN Task force organized a Training on Diagnostics and surveillance on 12th June 2018 at Musanze.
A total of 39 participants attended the training.
The training targeted officers form the extension officers, researchers, seed certification officers and seed production officers form several seed companies in the country. The training as facilitated by CIMMYT staff who took the trainers through the following:
Overview of the MLN Diagnostics and Management Project. This gave an insight on the project objectives, coverage and the current status of the project activities. Participants were brought to speed on the achievements so far realized in the project ant the planned activities for the year.
Introduction to Open Data Kit (ODK)App and Standardized digital MLN surveillance protocols. Sampling protocol for MLN and Introduction to Agristrips for MLN pathogen detection – Live demo and presentation
In-field demo on filling the survey form, collecting field samples (both leaves and seed), using Agstrip, recording GIS coordinates, using tablets to input data, and storing/submitting seed and leaf samples for further shipment/analysis. This was carried out in the afternoon in the field where the practical surveillance and diagnostics using immunostrips showed the presence of MLN in the demonstration maize fields.
This training equipped the trainees with knowledge and skills to effectively conduct MLN surveillance in the country for the year 2018. It is envisaged that quality data will be available from the surveillance that will inform stakeholders on the current MLN situation in Rwanda.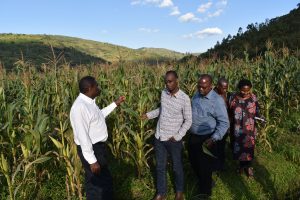 Trackback from your site.